Welcome, dear readers!
Unfortunately, my interview about this week's Drag Race episode didn't work out, so I'm going to be sharing some of my own thoughts alongside a Behind the Queens discussion of actually making the latest artwork – usually I post these exclusively for my Patreon supporters, so sign up if you'd like to hear more about my artistic insecurities and wrestling with expectations.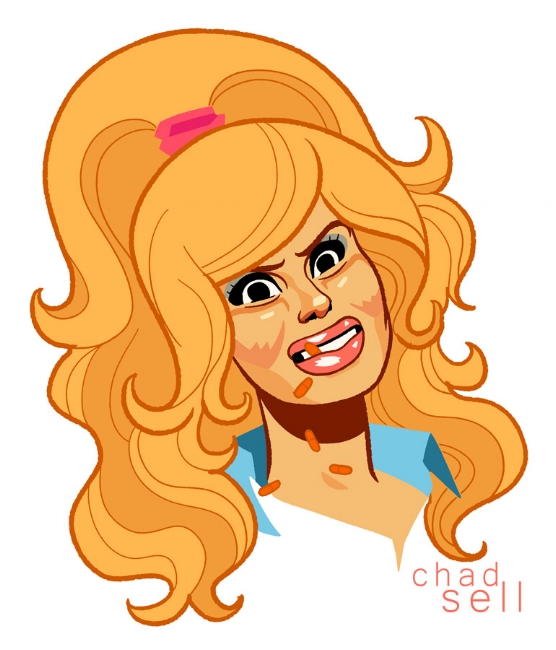 One of my favorite aspects of this show is being surprised by a queen – I often have early favorites, but it's nice to see other queens strut their stuff. This week, Trinity really emerged as a serious contender -- she's funny, she's competitive, and she's not afraid to read a queen. The real question, though: is she the new Cucu?
When she's bringing out her more pageant-y looks, I don't often feel compelled to draw her, but it was fun to capture her 90210-HO performance. I had initially thought about making this an animated GIF where she's gobbling the pills and flinging them from her mouth, but I worried that would dominate my entire day's work. For better or worse.
I mentioned my "early favorites," and one of those for Season 9 has certainly been Shea. She was one of the first queens I met when I moved to Chicago several years ago, and I was entranced from the very first performance. Another delight of this show is seeing new sides of the queens you're already rooting for, particularly when they're showing off their comedy chops in unexpected roles.
These goofy little character illustrations are fun for me to do, and I was really feeling a chunky, cartoony style early in my day's work on this batch of art. I think it's probably because I'm putting the finishing touches on a kids' comic project, and it's fun to work in that colorful, exaggerated, adorable world.
I was worried that this week's runway theme "Big Hair" would be kind of boring, but I think it was actually loose enough to offer the queens lots of room to play. There were a ton of imaginative looks that I was excited to draw, but I struggled a lot with my first few pieces. Even if I love a look, I need to think it over until an image snaps into my mind, guiding me in how to actually depict it. But that process felt like a long, slow climb for my first few runway illustrations.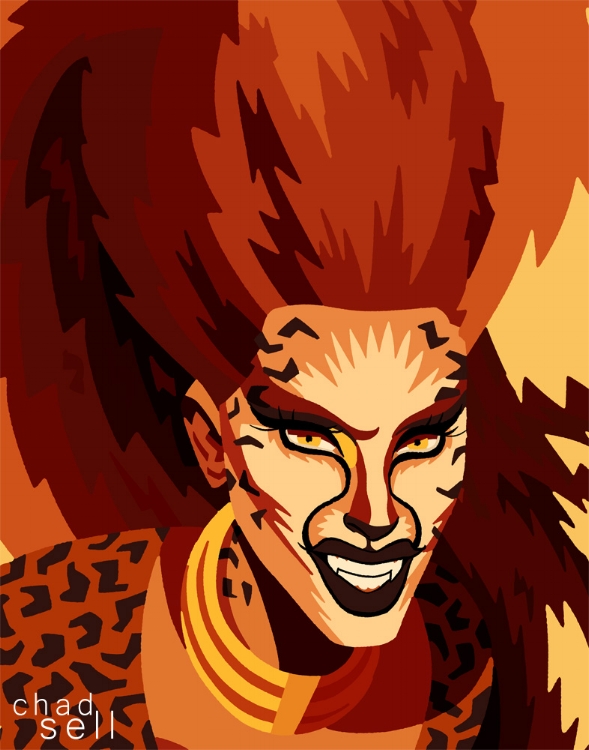 Nina's cartoonish sensibilities are really fun to capture, but they also present certain challenges for... a cartoonist. She looked great coming down the runway, but in drawing her, I was worried it would look like some knock-off ThunderCats character. I thought maybe going back to a very graphic, jagged color style (hearkening back to early RPDR stuff) could balance out the cartoonish elements of the makeup, and I think it mostly worked okay?
I also took the hard-edged, angular approach to Sasha's runway look... with mixed results. During the runway sections, I'm always snapping tons of screenshots of the queens, and I loved the slightly sinister smile Sasha was sporting. I thought the angle of her head would also show off her spikes of hair well, but it was also really, really hard to draw. I often avoid drawing this particular tilt of the head, and I suspect a lot of other cartoonists do, too-- there's something about how the eye rests on the very side of the face, and how the cheek comes in to meet the lips and teeth, which then form the contour of the face... it's like you're looking at a photograph, but thinking, "wait, that's not how the face works, is it?"
In any case, it was fun to see this side of Sasha, and I thought it was absurd that she was apparently in the bottom this week.
I was initially a little underwhelmed by the silhouette of Shea's runway – Michelle described the look as "a swimsuit and a jacket," but I agreed with Michelle's conflicted feelings, because during the judging, as we were given a closer up view of Shea, she looked goooooooood. The gorgeously styled wig, its cotton candy colors, and the pop of her black lipstick – all of it was just stunning. After agonizing over the art of Sasha and Nina this week, this one worked itself out really easily. (But I hope her floating hand doesn't look too weird. I shouldn't have pointed it out. Now it totally looks weird.)
Like I said, there were a lot of fun runway looks this week, but also a lot of artistic struggles on my part. I spent a fair amount of time illustrating Valentina's runway, but it was not looking good.
Late in the day, I finally got around to summoning forth Alexis Michelle's sickening sea witch, and I was really happy with it from the earliest sketches. In fact, I really liked the rough, gestural look of it, and the final piece probably took me less than an hour. You win some, you lose some, right?
I wasn't sure whether I would draw Aja this week, and so I saved this one for last. She had a rough week in the challenge, but she served up a really good lip sync, and I did think she looked amazing on the runway. Although some of her runway looks have been half-baked and underwhelming (thinking of last week's Madonna look....), I legitimately loved this avant garde gown, the big hair, and the pop of purple in her lips. I found myself agreeing with Michelle again that Aja's makeup was the best it's ever looked!
I was worried this piece would end up looking too much like my art of Katya's final runway from All Stars 2. But despite the stylistic similarities, I knew it would be a different color palette and a very different queen. Ultimately, I feel like the two drawings are companion pieces, and I could see them as two cards in a tarot deck.
I feel like we're getting into the "sweet spot" of the season, where we've gotten to know a lot of the queens, love some, and hate some. Every elimination will have impact, and every rivalry will have sparks. I'm excited.
As I mentioned, I do these "behind the scenes" write-ups over at my Patreon page every week! If you want to hear more about my process and support me directly, you can head over there.
I wanted to let you know that I've added a TON of new stuff to my Etsy store – new posters, postcards, prints, etc. In addition to lots of fun Season 9 images, I've also added a bunch of Alyssa Edwards art, which I'm very excited about. I'm going to hold off on posting this week's art on Etsy for a few days until I get it all printed up – I've been having some issues with my local print shop, and I want to make sure everything comes out well!